Important News!!
Well, as promised, here is the second book in the "LOVE LIGHTS" series. If you've not read "Love Lights: First Sight", I encourage you to read it! I hope you enjoy both books. I have one more in the series that will be published around Valentine's day!
Don't forget to LEAVE A REVIEW!!
Loves,
Ana


Love Lights: Ties That Bind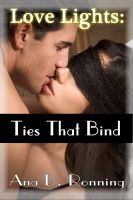 By
Ana B. Ronning
Published by
gazebopublishing
Rating: Not yet rated.
Published: Jan. 30, 2013
Words: 50,393 (approximate)
Language: English
Short description
After escaping the clutches of an abusive Dom, Juliana Cross was always on the run. But she's tired of hiding and wants to settle down. When she meets and falls for Clay Sharp, planting her roots never looked better. But, after being horribly abused, fear consumes her and threatens a life with Clay. Clay wants to help her, but she won't share her past. But, she won't have to when David shows up.
Juliana "Jules" Wolfe is a woman with deep emotional scars from being sexually abused for two years by her older brother, Jonathan's friend, David, who turned out to be a psychopath and a Dominant monster who practiced hardcore Bondage and Discipline. After a good caning from David, Jonathan found the bruises across her back and became infuriated, stormed out in a rage and disappeared for days. With him gone, Jules didn't know what to do and fled.

Escaping David's clutches and tormented by her brother running out on her when she needed him most, Jules changed her last name and went into hiding, moving from place to place randomly, hoping David would never find her.

After four years of running, Jules decided she's safe enough to settle down. She found a good job as an assistant for Emma Malone at Malone Enterprises and decided to stay and plant her roots in Texas.

Then she met him.

Clay Sharp, was larger than life, yet gentle as a kitten. Jules unwillingly falls for him despite her fear of falling into a dangerous relationship as she had before. She wants to trust him, but she can't find the courage to tell him her deep dark secret.

Clayton Sharp had always been shy and had a terribly low self-esteem. His closest friend, Mason Malone, had helped him crawl from the shadows and work his way up to become the Head Construction Engineer at Malone Enterprises. He seemed to have everything going for him; wealth, success, good looks and good health. He'd even been seen with a model or two on his arm. Things were looking up for Clay and he felt he was on top of the world.

Then he met her.

Juliana Cross is everything he never even knew he wanted in a woman. When he tries to pursue her, she turns him down flat. His insecurity returns with a vengeance as she tries to push him away. She has a dark secret that keeps her at a distance and he wants to know why.

Will Jules be able to put her fears of being abused or even worse, being abandoned by someone she loves aside and trust Clay with her fragile heart and live a normal happy life with him? Will Clay be enough to make her stay?

Clay yearns to find out what happened to Jules in the past. He wants to know who or what he needs to protect her from, but she refuses to tell him. Will he be able to convince her that he loves her and that he will never hurt or leave her?

Will their love for each other be enough to keep her from running again? And keep her safe from the danger that has been following her and lurking in the shadows?