HAPPY VALENTINES DAY!!
NOW AVAILABLE!!
"Love Lights: One More Night"
~~by Yours Truly!
Good Morning everyone and a very Happy Valentines Day to you!
The third book of the "Love Lights" series is finally here!
And just in time for the most romantic day of the year!
I hope you enjoy this story of Jonathan and Katherine.
Let me know what you think of the series and leave a post!
And don't forget to review!
Thanks for Sharing with Me!!
Hugs and Kisses!
Ana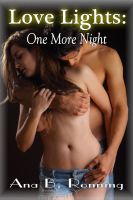 Love Lights: One More Night
By
Ana B. Ronning
Published by
gazebopublishing
Rating: Not yet rated.
Published: Feb. 14, 2013
Words: 39,151 (approximate)
Language: English
ISBN:
9781301369812
Short description
Katherine St. Claire has taken this one day each year for four years to mourn the loss of her brother and fiancé. While drowning in her sorrow, a stranger asks her to dance. In a case of mistaken identity, she turns him away, only to learn he wasn't the man she thought he was. After a one night stand, she wants more. But the deal was no strings attached. She didn't know he'd be her one true love.
Katherine St. Claire has mourned the loss of her brother and fiancé on the anniversary of their deaths for the last four years. While drowning in her sorrows at a friend's club, a very tall, dark and handsome stranger asks her to dance. Mistakenly thinking he is the guy her best friend has been trying relentlessly to set her up with for months, she tells him just what she thinks of him and his womanizing ways that he is notorious for. But, to her horror, she learns that he isn't that man, and apologizes. One thing leads to another and she finds herself agreeing to a one night stand with this handsome stranger. After a night of the hottest sex she's ever had, Katherine finds herself wishing she could have more of him. But, no strings attached was what he wanted. How can she get over the loss of the only other man she's ever been with other than her fiancé? The way he made her feel was incredible and it was tormenting her and her heart was aching for one more night with him.
Jonathan Wolfe had been searching for his long lost sister, Juliana for the last four years. He and his brother Jonas had finally tracked her down in Texas. After a night of celebrating with her and her friends, Jonathan found himself in need of some release that he'd been denying himself of until they found Jules. He had his eye on a certain brunette at the bar who seemed to be alone. After being rudely rejected, he tried to find another woman that would suit his needs, but he desperately wanted her for some strange reason and no one else. After salvaging what was an obvious misunderstanding, Jonathan took her to his hotel for a night of reckless abandon. Surprisingly, it was more than that to him and he wanted more of this raving beauty in his arms. But, he lived far away and would be leaving soon. He found his heart breaking to let her walk out of his life. If only he had one more night with her.
Will fate step in and bring these two together once more, or will unsuspecting dangers that linger with Jonathan's family keep them from coming together?